Top 10 Best Email Marketing Services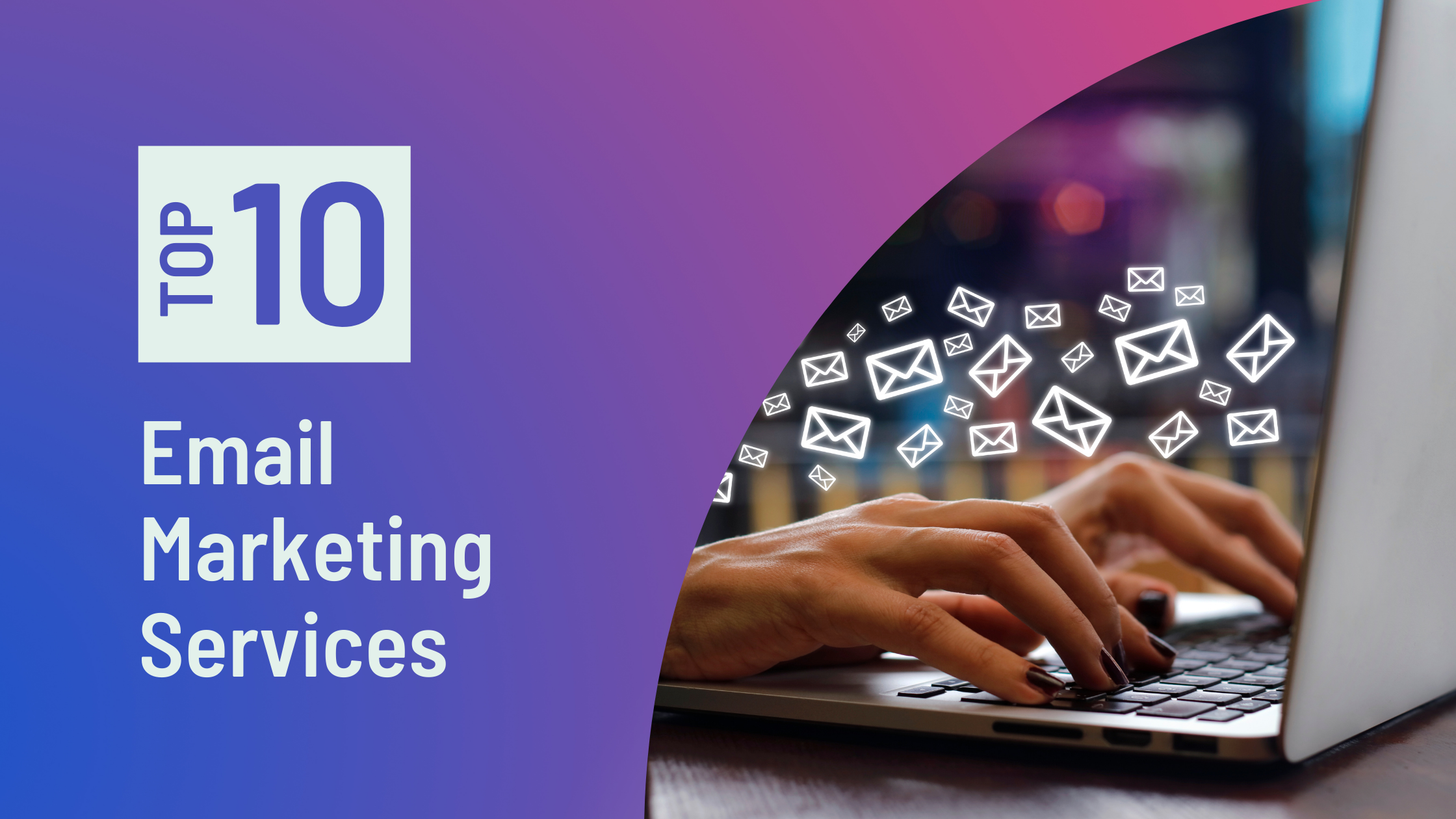 You can grow your business effectively using an email marketing tool since they are integrated with the features like automation, personalized content, and newsletter design tools. In addition, you can effortlessly build your mailing list here, which helps strengthen the relationship with your subscribers.
Your success in this marketing channel depends on choosing the best platform for your business, which is slightly tricky since tons of options are available.
However, whether you own a business or are a professional providing Digital marketing services, this guide will help you find the best platform for you.
The most popular email marketing service on the internet market is Sendinblue. This software has everything you need to track or launch your campaign, personalize the content, customize your message, and group your target recipients. They have machine learning-powered automation that optimizes the sending time to ensure your email is sent at the perfect time.
It offers four different versions which are free, lite, premium, and enterprise. Moreover, you can use the free version forever. This allows the user to send 300 emails per day for free. And when you start using this marketing machine, you will understand what makes it so popular among users.
Sendinblue is the most mature one and delivers you all the features beyond your expectations compared to other email marketing platforms. This lets you grab a new email address, add live chat, as well as learn about your company.
It has a built-in CRM, including room so that you can add as many contacts as you want. Additionally, Sendinblue combines more than 40 email templates that you can customize, plus simple tools for easy workflows.
You can also grow your contact list using Sendinblue since it has every possible asset you need. For instance,
Landing Page: This helps create engaging and actionable web pages for lead collection.
Integrated Facebook ads: This allows you to use the Facebook ads platform from its dashboard to create campaigns and drive targeted traffic.
Sign-up forms: Helps you collect your potential user information.
Retargeted ads: Creates powerful ads according to past user interactions.
Sendinblue's intuitive interface makes everything simple for users to build the list with eye-catching form so that the traffic turns into subscribers.
If you want to easily cultivate an audience, or grow the customer rate and collect leads, then Sendinblue is a fantastic tool for you. This platform is beginner-friendly, at the same time, great for anyone who wants to grow their webpage.
Its Free version provides:-
– You to use 300 emails every day
– Add chat to the site
– Customize the template
– SMS marketing
– Unlimited contacts
The plan for the Lite version is $25 per month. It offers:-
– You can send 1000 emails, and there's no daily limit
– It has A/B testing
– You can remove the logo of Sendinblue
For Premium Sendinblue, you need to pay $65 per month, and you will get:-
– Marketing automation
– Up to 1MM emails per month
– Telephone support
– Facebook ads, including retargeting ads
– Landing pages
The Enterprise version has a customized pricing rate. This lets you:-
– Create more than 20 landing pages
– Access more than 10+ users
– Customer Success Manager
– Customize the email volume
– Dedicated IP
2. Constant Contact
If you are looking for an email marketing platform for easy-to-use templates, Constant Contact would be the best choice for you. It offers more than email since it comes with various email templates. In the online marketing platform, this is the fastest growing software. At the same time, it's a perfect option for newbies.
You do not need any coding knowledge to create new emails which look professional. Constant Contact provides simple yet straightforward usability when it comes to adding text, polls, images, videos, and events to everything in between. This email automation software is also mobile-friendly as they have 100+ built-in optimized mobile templates.
In Constant Contact, you can track the result in real-time. It shows you the result for each individual subscriber. Moreover, you can create a welcome message for the new subscribers, at the same time, create drip campaigns according to the actions.
You can use Constant Contact for 60 days for free as a trial period. However, they provide two plans that you can choose from.
1. Email:-
– First 500 subscribers for $20 a month
– 501-2,500 subscribers for $45 a month
– 2,501-5,000 subscribers for $65 a month
– 5,001 – 10,000 subscribers for $95 a month
2. Email Plus:-
– First 500 subscribers for $45 a month
– 501-2,500 subscribers for $75 a month
– 2,501-5,000 subscribers for $95 a month
– 5,001 – 10,000 subscribers for $125 a month
3. MailerLite
MailerLite offers every essential for the newbies. As an email marketer, if you do not need a huge ton of bells and whistles, then MailerLite is an incredible option for you. You simply need the apparatuses to manage your simple campaigns or newsletters.
It's an outstanding choice for the team as well since everyone can use this platform's functions at their disposal.
You will get popups, automation tools, and overviews, which means you will get a lot of assets from this single platform. In addition, the UI is also genuinely simple and straightforward for each user.
MailerLite has a simplified supervisor, which makes it simple for anybody to plan a great message. At the same time, the A/B testing features let you optimize the campaigns for your subscribers.
If you are looking for email programming at a reasonable rate, we highly recommend MailerLite.
The service price tags for MailerLite:
– Up to 1,000 subscribers for $10 each month
– 1,001 – 2,500 subscribers for $15 each month
– 2,501 – 5,000 subscribers for $30 each month
– 5,001 – 10,000 subscribers for $50 each month
– 10,001 – 15,000 subscribers for $75 each month
– 15,001 – 20,000 subscribers for $100 each month
– 20,001 – 25,000 subscribers for $120 each month
– 25,001 – 30,000 subscribers for $140 each month
However, you will get a 30% discount on MailerLite while signing up for annual billing. They also offer a free plan for 1,000 subscribers, limited to 12,000 emails a month.
4. Omnisend
For the e-commerce sites, Omnisend is considered the tailor-made email-marketing platform. You will get various functions here, such as – SMS marketing and automated email that converts your leads into customers.
Omnisend ensures you can connect with the most customers as it is combined with Google Customer Match, Web browser push notifications, and Facebook ad retargeting. Also, you can target your exact customer for the service or product through this site since it has different channels for segmented campaigns.
Additionally, it has pre-built actions like cart, and emails/messages, including welcome texts. Their templates library allows you to make impressive email templates. Let's check out the pricing of Omnisend:
Free Version
– Allow you to reach 250 contacts and send 500 emails a month
– Checkout reports
– Signup forms or popups
– Omnisend-branded email campaigns
Standard Plan for $16 a month
– 6,000 emails a month, including 500 contacts
– Checkout reports
– Signup forms or popups
– Omnisend-branded email campaigns
– 24/7 chat and email support
– Audience segmentation
Pro Plan for $99 a month
– Up to 3933 SMS per month
– Checkout reports
– Signup forms or popups
– Omnisend-branded email campaigns
– 24/7 chat and email support
– Audience segmentation
– SMS campaigns and automation
– Unlimited emails per month
– Facebook custom audiences
– Google Customer Match
– Advanced reporting
– Web push notifications
– Audience segmentation
– Priority support
5. HubSpot
Are you looking for the best-automated software? Then our answer is HubSpot for you. Hubspot is considered the King of email marketing automation that's because they deliver an outstanding solution for any business.
Anyone can effortlessly personalize, quickly create emails, and optimize on Hubspot while it doesn't require any designer for IT support.
In the automated workflows, this software shines. Hubspot nurtures the subscribers and leads them into customers in no time with their service, which is amazing.
Moreover, it has an incredible mapping tool that allows you to visualize the report perfectly. Thus, you will be clear about your business. You can select Hubspot as a your-own-adventure journey for your subscribers.
Hubspot is a Swiss Army Knife that can be used for everything an email marketer needs. This also can be used for CRM and Marketing Hub. And your email marketing service can be stronger when it works by combining other tools.
You will get the best result using this tool since Hubspot is built with many pre-made email templates. This software lets you customize the layout, modify content color, and add calls to actions that match your brands.
Hubspot also lets you customize the tools for emails which helps boost the clickthrough rate. This software also offers you automatically use the subject line, link, calls-to-actions, and content to an email subscribers' contact records.
You can dive deep into the depth of analytics using their A/B testing tool to find out which one performed the best for you.
However, this tool can be used for sending up to 2,000 emails per month for free, whereas their paid version starts at $50. Therefore, if you want to send a professionally designed campaign to your potential subscribers, we suggest using Hubspot.
6. Moosend
Whether you are a seasoned pro or a complete beginner, Moosend has every possible solution for you. In addition, this is a perfect tool for you if you own an online store.
You can nail your email marketing campaign using this tool since it has real-time analytics, which gives you an accurate result. Also, it has an easy segmentation tool and an easy drag-and-drop email builder for everything in between.
The best part about the Moosend tool is that it can target customers depending on their shopping habits. At the same time, their AI leveraging machine has collaborative filtering that knows the target customers' tastes.
Hence, you can effortlessly sell your product depending on your customer's habits, as well as their shopping frequency of certain products. Thus, Moosend makes it easier for you to promote a service or product when your target customer needs it.
And no email marketing platform provides this incredible thing. So if you want to level up your e-commerce business site quicker, this could be your best partner.
This software is also able to do any essential email marketing perfectly. Its advanced personalized functions let you prepare unique emails for the targeted audience. Meanwhile, the segmentation tool will split the audience depending on the customer's choice.
You will get 40 responsive email themes on this site that are customizable and incredibly eye-catching. In addition, they offer a free version to pay which starts from $8 per month.
With the Free version, you will get
– Subscribe and sign up for the form
– Analytics and reports
– Unlimited emails
Pro Version required $8, and it provides
– Phone support
– 5 team members
SMTP server
– Landing pages
– Transactional emails
Enterprise Version has Custom pricing.
– SSO & SAML
– 10 team members
– Dedicated account manager
– Custom reporting
– On-boarding and migration
– Service-level agreement
7. AWeber
If you require a low subscriber count, then go for the AWeber. It is a traditional platform for email marketing service, which is very affordable for anyone seeking a cheap version.
This is very lucrative for small business lists for up to 500 or less, and it really delivers outstanding results, but the price is very low.
One of the best things about Aweber is that they provide all the features you need in their paid plans as well. However, the price of Aweber depends on the number of subscribers you have. But you will get the same plan features whether you have 100 contacts or 10,000 contacts.
The overview of the pricing tiers of Aweber.
– $19 per month for 0 – 500 Subscribers
– $29 per month for 501 – 2,500 Subscribers
– $49 per month for 2,501 – 5,000 Subscribers
– $69 per month for 5,001 – 10,000 Subscribers
– $149 per month for 10,001 – 25,000 Subscribers
You can expect every feature from Aweber for your email marketing business; for instance –
– Sign up forms
– 700+ pre-built templates
– A/B testing
– Automation
– Subscriber segmentation
– Email analytics
– Drag-and-drop email builder
– Third-party integrations
Aweber makes sure your content reaches your subscribers' inboxes, making them an industry-leading email marketing software.
8. GetResponse
Email marketers who are searching for an all-in-one solution for automation can depend on the GetResponse platform. You can collect beaucoup leads from GetResponse so that you can put them in the correct workflow, which turns them into your returning customer.
Moreover, GetResponse has automated emails, audience segmentation, landing page builders, webinar software, advanced analytics, and autoresponders.
GetResponse also includes a tool called Autofunnel which the previously mentioned platform doesn't include. You can use the auto funnel for webinars, leads, sales to everything in between. This tool is fully automated and straightforward to use.
It has funnels like exit popups, emails, landing pages, marketing automation, e-commerce integration, and Facebook ads. You can set up the tool according to your needs or based on your business goal. In addition, GetResponse provides tools for growing your business depending on the contacts list.
The GetResponse tool makes everything easier, so when you enter the funnel, everything will work accordingly. This will guide the customers through different processes using multiple digital touchpoints like social media, brand online, ads, and so on.
You will get four different pricing plans on GetResponse.
Basic — $15 per month
– Sell e-products
– Unlimited landing pages
– Unlimited lead funnels
– 1 sales funnel
– Autoresponders
Plus — $49 per month
– CRM software
– 5 sales funnels
– Automation builder with 5 workflows
– Webinars with up to 100 attendees
– Contact scoring capability
Professional — $99 per month
– Unlimited webinar funnels
– Paid webinars with up to 300 attendees
– Automation builder with unlimited workflows
– Unlimited sales funnels
Max (enterprise tier) — Custom price
– Dedicated account manager
– Transactional emails
– Dedicated IP
– Consulting services for email campaigns
– Webinars with up to 500 attendees
Keep in mind that the price will increase when your subscriber list increases. They also offer a 30-days free trial period that you can use to have an idea about the tool.GetResponse includes everything you, an email marketer, need, missing from others.
9. Drip
Drip is a CRM that is perfect for e-commerce businesses, and it is a new platform compared to others. Generally, Drip focuses on independent shops and small businesses and provides powerful segmentation and automation service for email marketing. This software works incredibly for the new e-commerce merchants.
If you own a new e-commerce site, you can use Drip for your business. This lets you track the metrics depending on your customer's purchase behavior or intent as well. In addition, Drip can also target customers who abandoned the carts, which means the tool ensures you connect with the right customers.
Apart from email, Drip's CRM system lets you connect with customers in different ways. However, you will get a clearer view of the campaign you set up from Drip since it has a revenue attribution feature.
The drip platform has everything an email marketer needs to personalize the capabilities, detailed analytics, customer segmentation, and everything in between an e-commerce shop needs.
The drip tool offers the same features for all plants.
– $19 per month for 1-500 subscribers
– $29 per month for 501-2,000 subscribers
– $39 per month for 2,001-2,500 subscribers
– $49 per month for 2,501-3,000 subscribers
– $59 per month for 3,001-3,500 subscribers
– $69 per month for 3,501-4,000 subscribers
– $79 per month for 4,501-5,000 subscribers
– $99 per month for 5,001-6,000 subscribers
– $109 per month for 6,001-7,000 subscribers
They offer a 14-day free trial that lets you use all of their features.
10. ConvertKit
If you are a content creator, influencer, or blogger, then you can go with ConvertKit. This tool is integrated with video producers, bloggers, artists, influencers, musicians, and much more. Usually, these platforms focus on engaging the audience to nurture them for e-commerce platforms, membership sites, or landing pages.
ConvertKit can create leads from Facebook pages, your e-commerce social media accounts, YouTube videos, blogs, and so on. You can consider ConvertKit if you are searching for affordable software that will build email funnels. Also, this platform has a visual flow chart to set up the sequence quickly.
You won't mismatch your subscribers on the ConvertKit because it keeps all your subscribers in one list. But you can personalize the campaign depending on the customer behavior.
ConvertKit doesn't use any distracting emails here; instead, you can create clear formatting and quick emails here in no time. However, here's the pricing of ConvertKit, which they set up depending on the subscribers you have on your site.
– $29 per month for 1,000 Subscribers
– $49 per month for 1,000 – 3,000 Subscribers
– $79 per month for 3,000 – 5,000 Subscribers
When you switch to more than 5,000 subscribers then you will get the ConvertKit free concierge migration service.Additionally, you can use the platform for two months if you choose the annual plan.
ConvertKit gives live chat and Email for 12 hours a day, and they have customizable forms and more than 70-third party integration, including custom reporting.
Wrap Up
Sending email campaigns and newsletters is a breeze when using the best email marketing software. But in terms of choosing a tool, you should be clear about your "specific needs." So go ahead and create a list of what you want or what your business needs that help you accomplish your email marketing goal. Then choose the one that suits your needs.
Determine your target customer, your strategy, as well as budget to get the right solution. Each platform offers a free trial period that you can use to find out which one provides the solution for your marketing needs. Yet if you want our suggestions, our top-notch choices are the first five options.