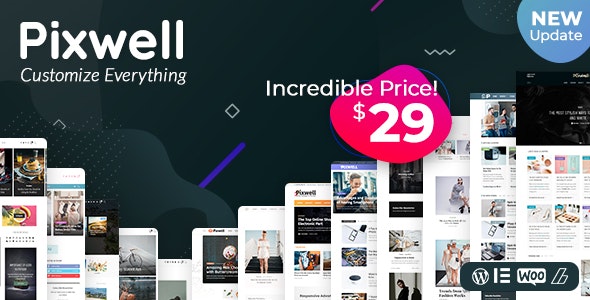 If you want the best Magazine/News WordPress theme, Pixwell is perfect. It's a modern and interactive WordPress magazine theme with pixel impeccable structures, beautiful designs an extraordinary highlight.
Pixwell theme has everything that you need to build your dream website. It's multipurpose, easy to use, mobile-friendly, and cost-effective. Hence, you're receive an amazing WordPress theme without breaking a budget.
The theme offers you mind-blowing customization options and advanced features that will help you set up your magazine website within a few hours. Its creative layouts will help you visualize your content and help your audience to receive the most benefits from your website.
The theme is constantly updated to improve its functionality and remove bugs. Its most recent version (Pixwell 4.2) is faster, smarter and SEO optimized to deliver the best experience to your website users.
About Pixwell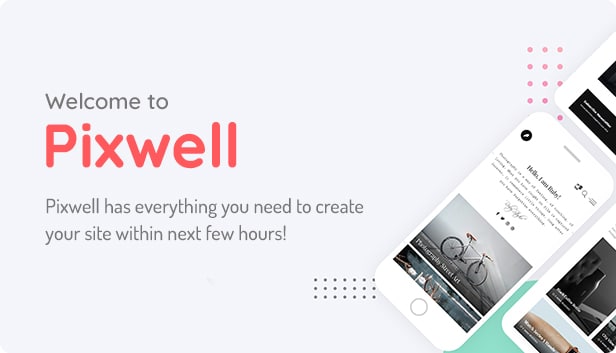 Pixwell is a professional-looking WordPress theme, particularly developed and designed for online magazines, newspapers, and blog websites. The theme is highly adaptable covering a wide spectrum of industries from travel, food, technology, fashion, and many others.
Pixwell is a powerful, SEO friendly and responsive WordPress theme which is built on Top of Site-Origin page builder, therefore you can create various types of static pages using a drag-and-drop page builder.
The theme is optimized to perform amazingly with a variety of plugins, including Woo Commerce, Yoast SEO, Cooked, and Elementor. As a result, you can easily build your site without having to tweak any codes.
Being completely optimized for fast loading and databases, Pixwell work perfectly on both smaller and larger websites. Featuring creative design, Pixwell organizes you content to follow natural eyes, achieving a balance between visual hierarchy and beauty. The theme also supports web-browsers, lazy loading, mobile devices, and retina screens.
Key Features of the Theme
Unlimited Layouts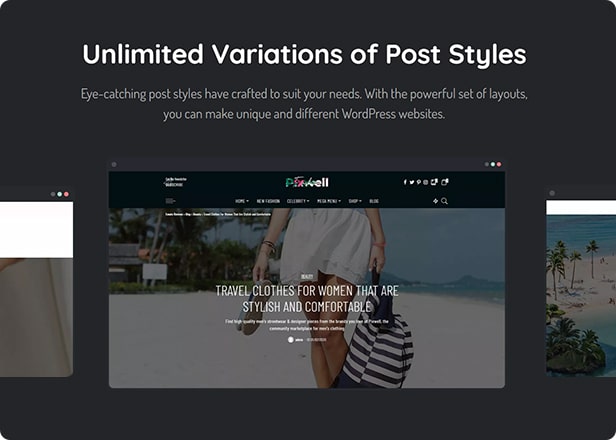 Pixwell gives you access to a ton of custom layouts. Each layout is uniquely designed for specific industries. With just one click you can import and configure the layout you like.
For example, if you are creating a marketing food blog website, or you just want to share your recipes with your audience. Pixwell Recipe layouts can help you design and format your ingredient list in your content, as well as the nutritional info on the various dishes.
Another excellent example is the review magazine theme that comprises unique features that cover product review articles. You can also combine some elements to come up with something unique.
Fully responsive
The theme can automatically scale the content and elements of your website to match the screen size of the device your visitor is using. As a result, your visitors won't have to go through any additional struggle to read your content. The theme passed Google Mobile-friendly tests and its 100% responsive on other devices such as laptops and tablets.
Ruby Composer

This is a built-in, lightweight page builder that allows you to edit your WordPress pages through an improved drag-and-drop editor. This provides you an easier way to use your WordPress to create unique layouts using any template you wish with just one click. Even if you are new to WordPress, you can easily figure out how it works. You can also import and install the demos you like from the ruby importer panel.
1–Click Demo Importer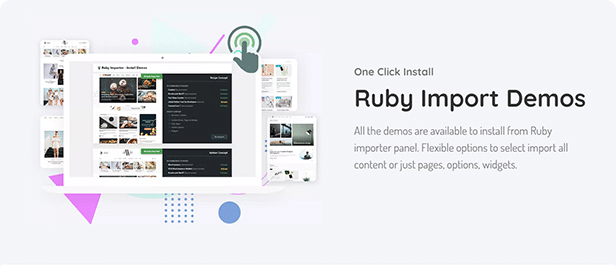 To help you launch your new WordPress website, Pixwell has a powerful content importer tool that helps you to select the themes you want to import to your WordPress dashboard easily and enable the recommended plugins in just 1-click.
This tool helps you to set up your theme easily and fast by importing any demo or parts of the demos. It's a fast and convenient way to import demo content, theme options/setting, and widgets. This content importer will save you a lot of time and effort when you're setting up your website. You can also replicate your sample data quickly.
Elementor Support

When you create a website, you want it to be beautiful and unique. A quick and easy way to accomplish this is by using and Elementor. An Elementor page builder contains dozens of useful widgets, beautiful design templates, unique mobile editing tools, visual revision history feature, and many more.
Pixwell supports an Elementor page builder plugin which can help you create unique, impressive pages and posts designs/layouts, even if you're not a professional website designer.
Review System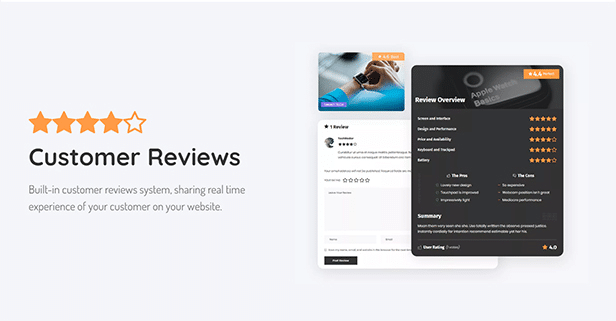 Pixwell is the best theme to publish your content, whether it's an article, blog post, or a review. Thanks to its built-in review system, you can share real-time experiences with your customer on your website. You can also curate professional-looking reviews, complete with the review criteria and customer ratings. Besides, you can monetize your content with referral links to online stores that will pay you a certain commission every time your visitor purchases products from them.
Shop integration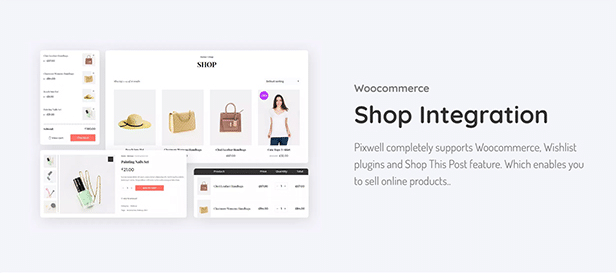 Pixwell offers you an excellent eCommerce support, by integrating WooCommerce and Wishlist plugin. So, should you ever want to develop your business and website to sell your products online later, you can use them easily, no web developer needed.
Other Pixwell Features include:
Amazing post Features
GDPR Compliant
Newsletter System
Parallax Animation
Post Reactions
Cooked Support
800+ Google Fonts
Pros
24/7 support
Mobile-Friendly
Constant updates
The theme is cost-effective
Easily customizable
Google-friendly
Cons
Support doesn't include service to change and extend items beyond its original styles, functionality, and features
The theme doesn't support inline ads
Final Thoughts
If you're thinking of diving into the news magazines and blog post space, you can make it without a hassle, all thanks to Pixwell. The theme not only offers you a chance to do what you love but also gives you a chance to make some income through affiliate links or selling your products.
The best part is, you don't have to be a professional web designer, developer, or coder. Anyone can build set up a website using the drag-and-drop technique. So, even if it's your first time to create a website, you will succeed at it with Pixwell.
By utilizing all the features provided by Pixwell, you can create a beautiful and fully functioning website that delivers an amazing experience to your users.