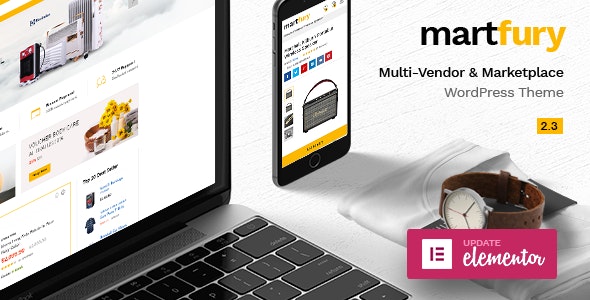 WordPress is a good platform for developing a WooCommerce marketplace site. There are many good WooCommerce themes available on WordPress and Martfury is one of them.
You'll find it easy to create an online marketplace on WordPress with such a theme as Martfury. The theme is designed to make it possible for you to build online marketplaces like Amazon, eBay, or Envato. Martfury is the up-to-date WordPress theme that has all the necessary features that your online marketplace needs.
With Martfury, your WooCommerce WordPress marketplace will be convenient both for vendors and buyers. The marketplace will allow vendors to sell their products and services successfully. Buyers will be able to find the necessary products and services on your marketplace fast and easy.
Martfury can be an effective solution for WordPress online stores. This WordPress theme has been used by developers to build online stores for selling different types of products including clothing, furniture, electronics, auto parts, and accessories.
About Martfury
Martfury WooCommerce marketplace WordPress theme has been developed by DrFuri. The company specializes in creating WordPress themes for small businesses.
Martfury WordPress theme has 5,738 sales on Theme Forest. The vast majority of people have left positive customer reviews about the theme. Based on 215 ratings left by customers about the theme, Martfury has an average rating = 4.84 of 5.
Key Features of Martfury Theme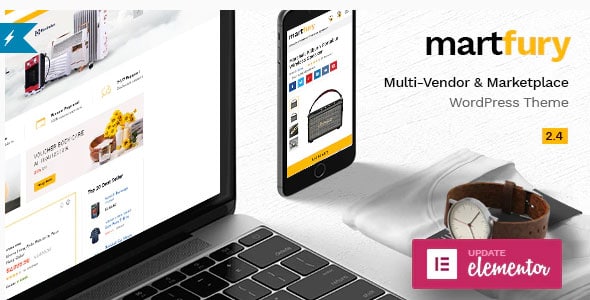 Martfury WordPress theme is packed with lots of great features. Keep in mind that the theme has everything that's needed to create an online marketplace.
Here are the top features of Martfury WordPress theme:
Shop full width. We all know that shop full width is a very useful feature that provides users of the online marketplace with a better experience. Martfury WordPress theme comes with full-width layouts. You'll be able to use layouts of this type for creating shop pages as well as product pages.
Elementor page builder. With this type of page builder, you'll be able to create pages for your online marketplace fast and easy. Elementor allows you to do live design and editing. It's worth noting that a page builder has an easy to use drag and drop interface. So, you'll quickly figure out how Elementor works. When designing pages with Elementor you can choose the color, title size, and many other parameters for your page design.
Vendors price comparison. People tend to compare the prices of several vendors before buying something on online marketplaces. They do this to purchase products or services at the best price. You'll be able to provide users of your online marketplace with such a feature if you choose to build your site with the Martfury WordPress theme. Vendors' price comparison can be easily integrated into the WordPress marketplace built with Martfury.
Advanced live search. Every online marketplace needs live search and there is no question about this. If you choose to build your online marketplace with the Martfury WordPress theme, it will not take you too much time to add the advanced live search to your website. As a result, people will be able to find the necessary products on your online marketplace easily and quickly.
Daily deals. People like discounts. That's why some vendors prefer to use daily deals to attract more buyers to their businesses and sell more products (or services). This is a marketing technique that works and provides excellent results. What is great about the Martfury WordPress theme is that this WordPress theme has such a built-in feature as daily deals.
Deals with countdown. It's no surprise that so many vendors choose to provide their customers with the so-called countdown deals from time to time. And of course, you should take into account this fact if you are building an online marketplace. You need to know that Martfury is a WordPress WooCommerce theme that comes with such an amazing feature as product deals with countdown.
Recently viewed products. It's fair to say that the Martfury WordPress theme has been designed with online buyers in mind. If you choose to create a WordPress marketplace on the Martfury theme, you'll be able to provide consumers with a recently viewed product feature. So, consumers will be able to analyze their recent viewing history on your marketplace site.
Built-in mega menu. It's pretty easy to implement a mega menu into an online marketplace if it is built with the Martfury WordPress theme. In this case, you don't need to install any additional plugins on your WordPress site. The reality is, Martfury WordPress theme has a built-in mega menu. All that you need to do is to take advantage of this great feature.
Search trending. Some customers want to get suggestions when searching for products or services on online marketplaces and online stores. If you choose to take advantage of the Martfury theme to develop a WooCommerce site, you will be able to integrate search trending into your site quickly.
Martfury Theme Pros
– Mobile optimized;
– User-friendly;
– One-click demo import;
– The theme is constantly updated and improved;
– WC Vendors and WC Vendors Pro Compatible;
– Highly customizable;
– Free lifetime updates;
– The theme is affordable;
– Compatible with all popular WordPress plugins.
Martfury Theme Cons
– A few clients reported that the theme has some bugs;
– Some clients say that Martfury theme's support representatives reply to tickets slowly and it took them to long to get a response.
Final Thoughts
Martfury is one of the best multi-vendor marketplace WordPress themes. As you can see, this WordPress theme has a lot to offer to the owners of online marketplaces.
Martfury is a good marketplace WordPress theme in terms of documentation quality, customization, flexibility, and code quality. Plus, the theme can be integrated with many great plugins such as WooCommerce, Yoast, W3 Total Cache, Contact Form 7, MailChimp, WPML, YITH Wishlist, and others.
With the Martfury theme, it will not be difficult for you to create an online marketplace site on WordPress. It's also important to note that the theme has many great features and can be easily customized for any of your marketplace needs.