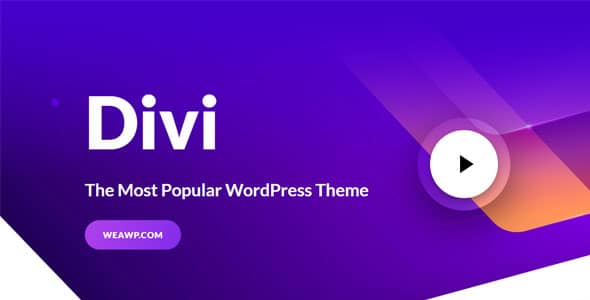 Are you looking for the best WordPress theme to build your all-one-website? Your best option is the Divi theme from Elegant Themes. Divi is among the best and most popular WordPress themes. As a multi-functional theme, it is suitable for building websites and webshops with WordPress.
Divi is regularly updated and improved to deliver an amazing performance. It now comprises hundreds of pre-made website layouts, many customization options, a powerful drag-and-drop page builder, and other important features. The fact that, it's competitively priced and anyone can use it, plays a huge role in its popularity.
In this Divi them review, we will explore its key features, pros and cons, and pricing. This will help you make the right decision on whether this theme is the best choice for your needs.
About the Divi Theme
Divi is a premium WordPress product from Elegant Themes. Developed in 2013, the theme has undergone several major changes and is constantly refined and improved, making it one of the best options in the multi-purpose WordPress themes Marketplace.
Nick Roach Founded Elegant Themes in 2008 as a WordPress Theme Shop and since then it has grown to become the leading industry leader in the niche. Divi theme is one of Elegant's most successful WordPress products today. This theme powers over 2 million websites. It earns its popularity from its wealthy collection of features, visual appeal, and splendid support.
Divi is a Theme and Visual page builder that makes it easy for anyone to develop websites without coding knowledge. It comes coupled with 40+ modules that can be dragged and dropped into your website. It also comes with hundreds of pre-made layout packs that can be easily loaded into your website page with just one click.
Divi is part of the Elegant Themes membership club which grants you access to 3 plugins (Bloom, Divi Builder, and Monarch) and 2 themes (Divi and Extra) just for a price of a single theme.
Divi Theme: Main Features
Pre-made Designs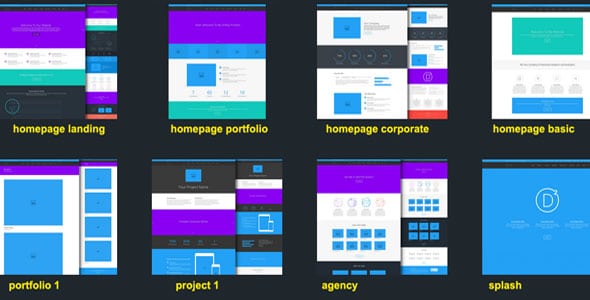 If you want to create a new website, you'll be happy to know that Divi has an extensive collection of attractive unique templates. Divi comes with 800+ pre-made individual page layouts and over 100+ pre-made website templates that you can use right from the start.
The layouts range from yoga studies to business website and learning management to eCommerce stores. There is a template for every type of project you can think of. Before building a website, it's worth going through Divi layouts and sees what suits you.
Unlike other WordPress themes that provide you with template libraries with individual templates, Divi comes integrated with Layout packs designed for specific websites (eCommerce, business, and portfolios).
The layout packs comprise individual page templates like home page, about page, landing page, and contact page. Hence, providing you with a way to kick start your website with all the content you need. You don't have to use only one layout pack to pick your layouts, you can select different layouts from the wide selection of layout packs.
You can entirely edit the content layout and create your design, or you can just edit out the text and pictures where necessary using the content manager. The choice is yours.
Drag and Drop Visual Content Editor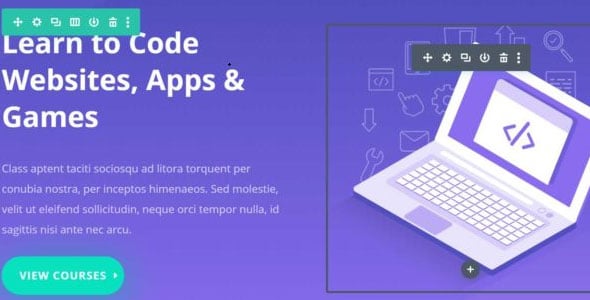 The creation of new content designs and customization of templates takes place in the Divi Builder. Even though the builder started as a back-end builder, it was updated and now it's a front-end visual editor.
All thanks to this upgrade you can now live-edit the front-end part of your website via a WYSWYG interface. Working on the front end of your site gives you a clear picture of how your content will appear and how your visitor will experience it.
This doesn't mean that working on the back- end of your website is a bad thing; It's a good thing and it has its perks. For example, you can receive an excellent overview of how your page has been build including which modules have been used and how they're arranged.
Thanks to the updates, now Divi Builder allows you to switch to wireframe mode. This hides the modules and makes the page structure more outstanding. The wireframe mode shows you which module is in use and gives you a clear picture of your layout.
From there you can adjust different aspects of the layout easily, unhindered by the content of the modules. Both the front-end and the wire-frame mode let you create and design your page exactly the way you want it.
Features of Divi Builder are:
Ability to Undo and Redo actions performed in the visual editor.
Mobile viewpoints for previewing content on smartphones and tablets.
A vast selection of content modules
A way to create reusable sections throughout your website.
A way to build custom theme templates.
The builder uses rows and columns to help you create your page layouts. You can start by selecting sections, whether it's a custom, standard, or a full-width section. Next, just select rows and columns and add the elements or modules that make your website page.
Drag and drop different useful modules into your page layouts like sliders, buttons, video players, etc. Divi allows you to customize all the modules to make sure they work perfectly with your website design and appear just they want it.
Customization Options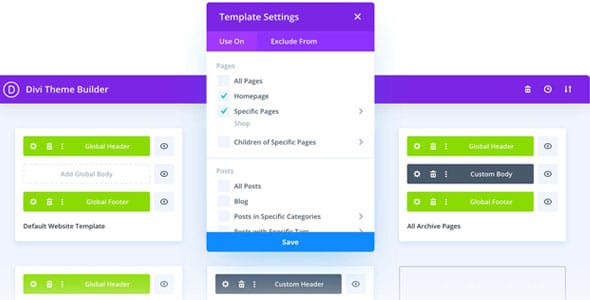 Divi customization options, won't disappoint you. Each element has numerous customization options. You can customize anything to the finest detail, whether it's the backgrounds, spacing, fonts, margins, effects, hover states, and much more.
You won't struggle so much to customize your website, because Divi makes it too easy with its in-built visual page builder. All you have to do is click the element you wish to customize and choose your options. As simple as that.
Divi comes with an interesting feature known as the Divi Theme Customizer. It's a powerful and efficient tool that will help you customize the different aspects of the Divi theme. Just like the Visual Builder, this tool allows visual front-end customization and design changes for a fast and effective customization process.
You can also customize every element in Divi Theme using different settings in the Divi Builder section, rows, columns, and modules. Also, you can customize the elements using the module customizer, and the Theme customizer.
Ease to Use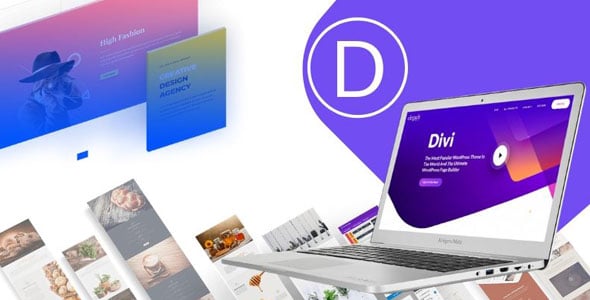 Most of the aspects we have discussed are very easy to use and you don't have to be a genius to figure out how they work.
Elegant Themes develops most of their product with beginners in mind, instead of experienced users who can grasp complex concepts easily. Even if it's your first time creating a website with Divi, you'll enjoy it because it is a simple and instinctive theme.
However, this theme has a learning curve too and its user experience differs from that of WordPress, therefore you'll need time to familiarize yourself with its functions.
Portability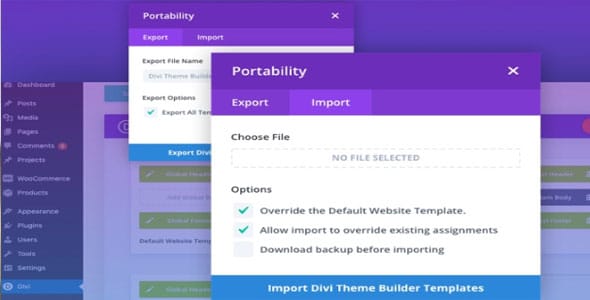 This theme is highly portable considering that its targeted users are agencies and designers, who will need to re-use some assets and layouts between different websites. The theme makes it easy to transfer data between WordPress sites.
Apart from layouts, you can also transfer libraries, pages, settings, and modules. The Divi portability system transfers anything and works everywhere. The speed for achieving this process will blow out your mind.
Full Creative Control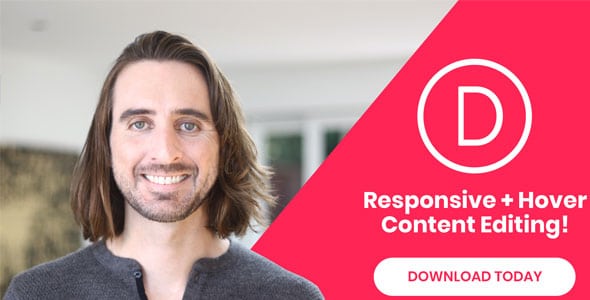 Divi builder interface gives you full control of every aspect of your content. You can customize the design of your pages and posts seamlessly. Divi's recent update gives you full control over every part of your website.
Divi Theme: Other Notable Features
Woo Builder for WooCommerce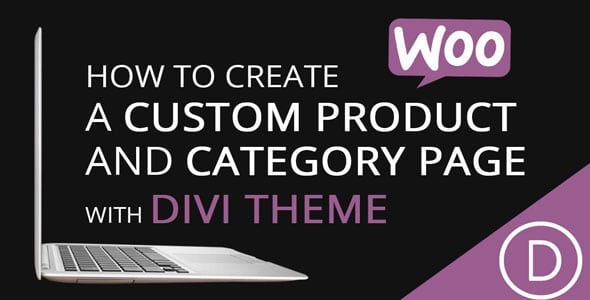 Divi's WooCommerce Builder comprises modules that you can use to customize your product pages. You can also use it to create product listing on your site.
Allowing Divi Builder on a WooCommerce Product automatically transforms the default product layout into a collection of customizable WooCommerce Modules.
Global Elements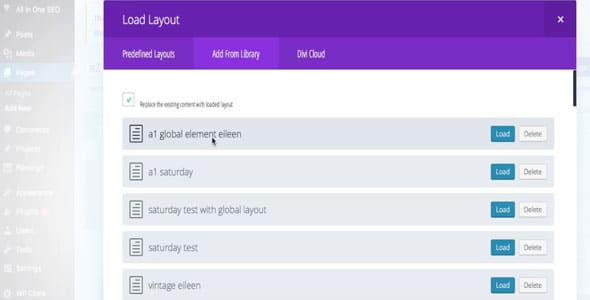 Divi provides you with a way to save all your changes and apply them throughout your website through the Global modules feature. When you update a global module element, the element is automatically mirrored to each instance of the global module.
This feature saves you a lot of time because if you want to change one area of your website, all you have to do is to edit and update the global module once, rather than having to update standard modules in different locations of your website.
It's like creating a skeleton of a page then saving it as a page template to be used and reused repeatedly to create unique versions of the pages.
Content Models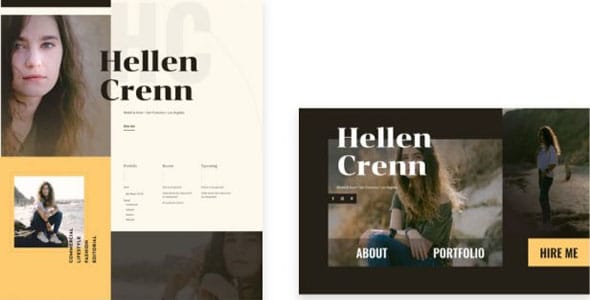 Modules are building blocks of any theme, also called Elements. Divi comes with over 40+ content modules. You can add any module to your page layout, whether it's the gallery, page title, sidebar, testimonial text, header, and much more.
There are two ways to add a module to customize your page: You can drag and drop the module to a layout, or you can add it directly from the live preview.
Each module can be customized individually; this means you won't get stuck with a default module style. You can customize its color, image, size, border, etc. You can even duplicate them and arrange them the way you like. These modules give you a way to control the overall appearance and uniqueness of your website.
Language and RTL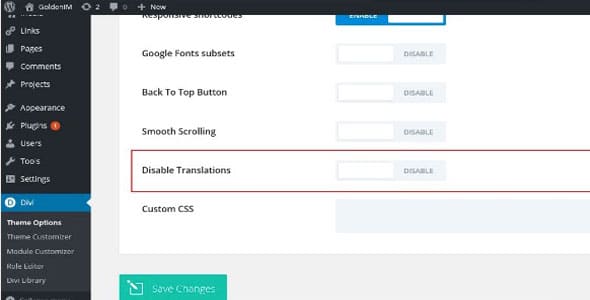 A program needs to support different language and Elegant Themes understood this. That's why they made Divi multi-language enabled. It's fully translatable into 32 languages and provides RTL support.
Divi Theme Builder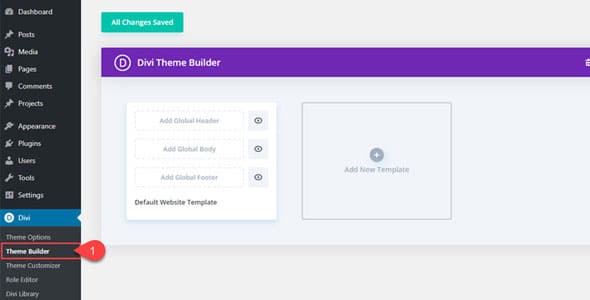 Many WordPress themes that come integrated with page builders, only allow you to create page designs and posts. But they don't allow you to customize the other aspects of your website like layout, header, and footers.
Divi wasn't so different either. But thanks to its updates, now you can customize any section of your website using the Theme builder feature. With the Theme Builder, you can build your desired website structure and edit headers and footer or any other aspect of the Divi theme.
You can allocate your customized layout or template designs to specific areas of your website, be it the category pages, blog post, or your complete website template project. All you have to do is to build a template and assign it as you wish.
Custom Headers and Footers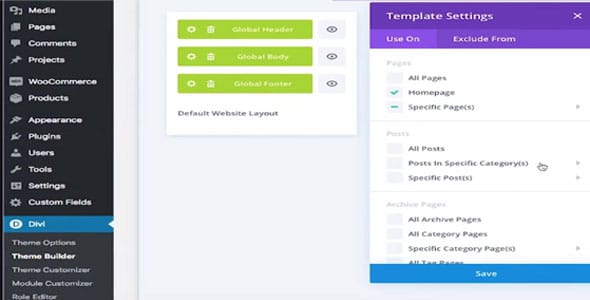 The theme builder lets you create and customize header and footers for your blog posts, portfolio, and any other part of your website. You're no longer restricted to Divi's Default header anymore, instead, you're given total control over your site header via a Divi Builder and its modules.
This new update also improves the Divi menu module offering you more layout options, full control over its design, and more control over its elements. You build custom headers and footers for an individual area of your site, or a global header and footer that affects your entire website.
Custom Body Layouts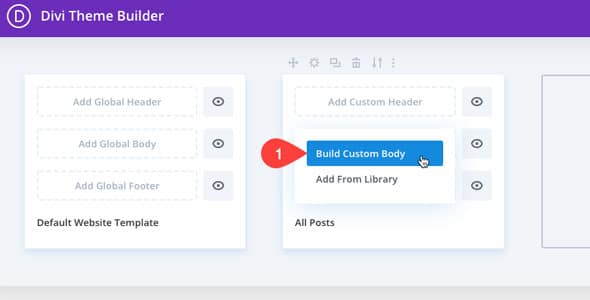 We've seen the possibilities for the header and footer aspects. Now let's look at what you can do to your website's body layout.
You already know that you can use the page builder to create pages like about us, homepage, and others. And you can also create custom blog posts and products.
However, this can get tedious sometimes because you have to create new content every time. It would be much simpler to just create one custom body layout template that can get mirrored to the entire website.
Because of this is, Divi has introduced custom body layouts to make this process seamless. With it you can create a custom body template and change the structure of a page like blog posts, archive page, search result page, 404 pages, and many more.
Divi Leads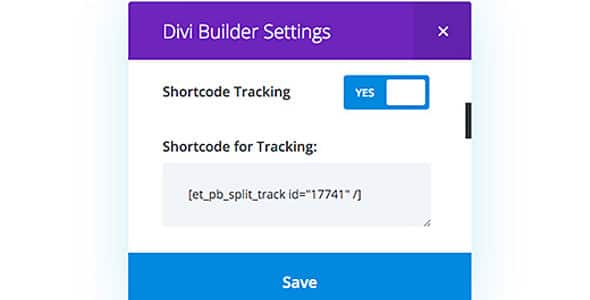 To make sure your customized content design doesn't just look attractive but helps you generate leads, Divi brings you Divi Leads tool, which also features a split-testing tool.
The splitting feature integrated into the Divi Builder allows you to broadcast various versions of your pages to a different visitor. As a result, you can figure out which version works better at converting your visitors into leads.
Using this functionality, you can test various headlines, layouts, or colors. Then, Divi leads will inform you how each variation performs in the battle for more clicks, higher engagement, and more sales. When the test is over, you can choose the variation with the highest conversion rate.
Divi leads also allows you to run multiple tests instantaneously, making it easier to optimize your whole site for the highest lead generation and sales. This functionality is rare among WordPress themes, and you can only find it in Divi.
If you're building your website with a goal of product sale, more page views, email-opt in, or form submission, this unique Divi Leads is a very effective and easy-to-use tool.
Sucuri Safe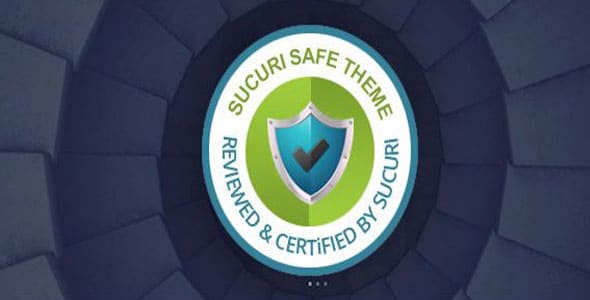 Both Divi and WordPress are secure enough, but they've experienced some vulnerabilities in the past. That's why Elegant themes constantly update Divi's theme to patch any existing flaws. Divi uses safe coding practices to manage any security concerns. The theme has also been secured and certified by Sucuri (a WordPress security company) via a complete code audit.
Documentation and Support
Documentations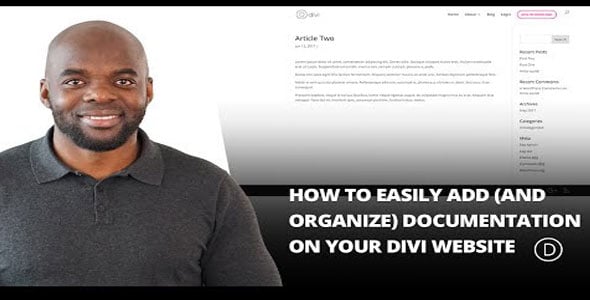 Despite the simple nature of the Divi theme, you can sometimes find yourself stuck. Thankfully, they have detail online documentation to help you out. The documentation lays out every element and feature of the Divi Theme. Also, you are given lots of examples, tips, and advice on how to use Divi products.
Apart from the detailed documentation, you also receive full support.
Messenger Support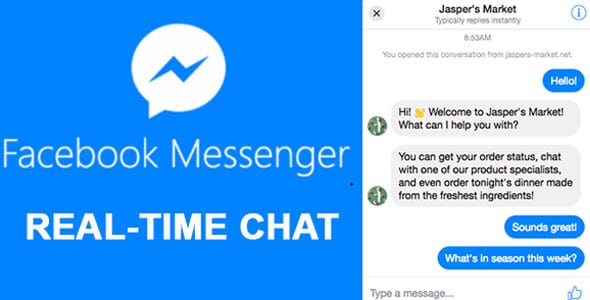 Support from Elegant Themes is through the live chat or messenger system found on the Divi website. The response from the customer support team is fast and helpful.
Facebook Groups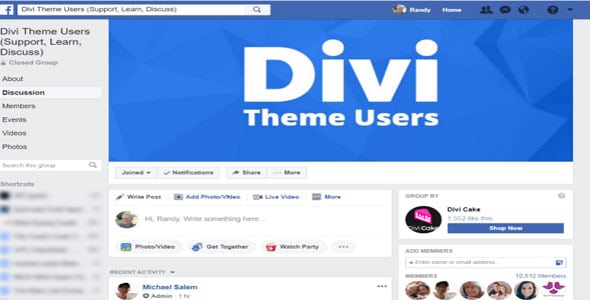 Divi has several Facebook User Groups where users can share best practices and tips. These groups are run by Elegant Themes staff and moderated by various Divi community members. Divi Facebook groups offer you excellent resources for problem-solving and a perfect platform to share tips and advice.
Discussion Forums and Meet-up Groups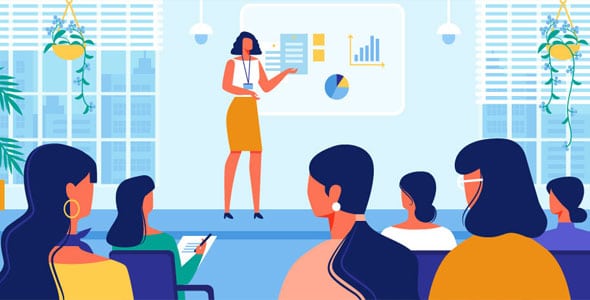 Divi theme discussion forum is always online, providing users with a platform to exchange ideas and communicate with one another. Besides, Elegant Themes and Divi Community hold in-person meet up groups that take place all over the world. You can attend the meetings and engage with other people in Divi Community.
Other Products Provided by Elegant Themes Alongside Divi Theme
Once you have purchased the Divi Theme, you get access to both the theme and other Elegant Themes products. These products include:
Bloom: An email opt-in and generation plugin.
Monarch: A WordPress social Media sharing plugin.
Divi Builder: A WordPress plugin for adding Divi Page builder to other sites using different themes.
Extra: A WordPress theme builder and Visual builder for magazine and blog posts.
Divi Pricing Option
In this section we will discuss Divi theme pricing.
Divi WordPress theme is quite affordable when compared with other WordPress themes in the same category. However, you first need to sign in to Elegant Themes to use Divi.
So, how much does the Divi theme cost?
Well, Elegant Themes provides you with two pricing categories.
Yearly Access at $89
Lifetime Access at $249
The yearly access pack provides you access to all themes and plugins, constant updates, premium support, and unlimited website usage. Even after one year, you can still use its products unsupported. Although, you'll be vulnerable to security issues that may arise and you might miss out on new improvements and features.
The lifetime Access package provides you with access to all themes and plugins, regular updates, unlimited website usage, and stellar support. This is your best bet if you're planning to use the theme for over 3 years.
Yes! I know, it sounds like a huge financial risk. But don't fret! Divi gives you a 30-day-money-guarantee if you don't enjoy the theme or you don't get used to it.
Divi Theme: Pros and Cons
Now let's discuss some pros and cons of the various features discussed.
Pros
Powerful Page Builder – The Divi Builder is a splendid tool used to create attractive page layouts and designs for websites.
WooCommerce Support–For those who want to build an eCommerce website, Divi offers them full WooCommerce support and customization options.
Updates and Improvements – The Theme is updated and improved regularly to fix bugs and improve user experience.
Excellent Support and documentation – Divi offers its users fast and responsive support, and well-detailed online documentation.
Easy to use–The theme interface is simple and the front-end builder makes it easier to create websites in real-time.
Safe and Secure – Divi theme is certified by Succri.
Attractive Licensing policy – For the price of one you can use Divi on unlimited sites and receive access to all of the Elegant Themes other themes and plugins.
Cons
Shortcodes–The theme embeds a lot of shortcodes to the pages, especially during customization. This makes it hard to move away from the theme.
A ton of features – The theme provides users with lots of features. This can overwhelm anyone new to this theme concept. Also, it takes a longer period to understand how all the themes work.
Final Thoughts
Divi is arguably among the best and most popular all-in-one WordPress themes in the market today. The theme offers you great value for your money by providing you with additional products that don't exist in other themes in the same category.
Divi Builder is also one of the best WordPress Page builders. Furthermore, it's now updated with amazing features to help you create and design any website, whether you're a beginner or expert web designer.
Divi vast collection of features might overwhelm you at first, but once you get used to them, you'll be building professional-looking and attractive websites in a matter of minutes. However, you need to invest time to learn how its various features work because its interface differs from that of WordPress.
With tons of customization options, 40+ elements, additional Elegant Themes Products, and a fair price. I don't see a reason you shouldn't try out this amazing theme.