WoodMart theme would be the perfect choice for those who want to build an online store on the WordPress platform. The theme will impress you with its beautiful design, convenient interface and amazing features.
It's fair to say that the theme has been designed with owners of online shops in mind. If you choose to develop your online store with WoodMart, you'll have everything that's needed to provide your site's visitors with great user experience.
About WoodMart
WoodMart is one of the best themes for WooCommerce online stores available these days. The theme can be easily optimized and adjusted to any of your online store's needs.
WoodMart is a premium WordPress theme. The theme has great design. If you take advantage of this theme, you'll be able to build a stylish online store for any type of business.
WoodMart is a highly customizable theme. The theme can be easily integrated with a variety of plugins such as bbPress, BuddyPress, Yoast SEO plugin, Revolution Slider, Contact Form 7, W3 Total Cache, MailChip and others.
With WoodMart theme, you'll find it easy to create an online store and adjust it for your needs. Your WooCommerce site will load fast, look unique and work properly on any screen resolution.
Key Features of WoodMart Theme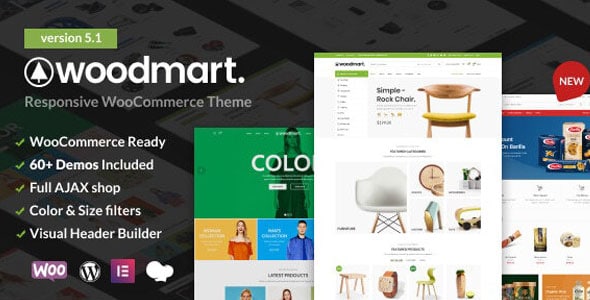 It's worth noting that WoodMart is a feature rich WooCommerce WordPress theme that has a lot to offer to online store owners. Now, let's take a close look at WoodMart main features.
Powerful Settings Panel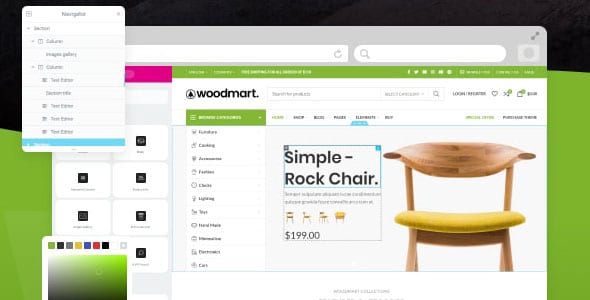 WoodMart is a WordPress theme that has a powerful setting panel with great graphical interface. Such an easy to use panel allows you to make changes on your online store site without any coding experience.
Built in Wishlist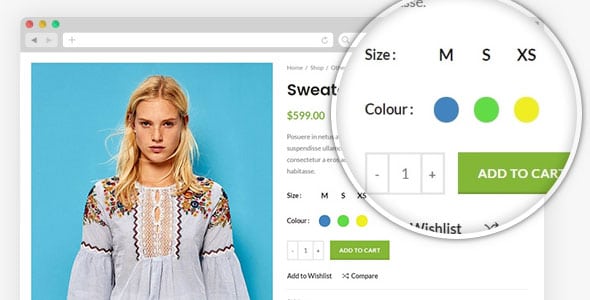 We all know that a wishlist is incredibly important feature for people, who choose to do online shopping. Initially, online buyers pick products they like on your site and create the so called wishlist. Then, they analyse the products in wishlist and make a final decision. Would you like to add a wishlist to your WordPress online store? Bear in mind that WoodMart theme comes with such a feature.
Visual Header Builder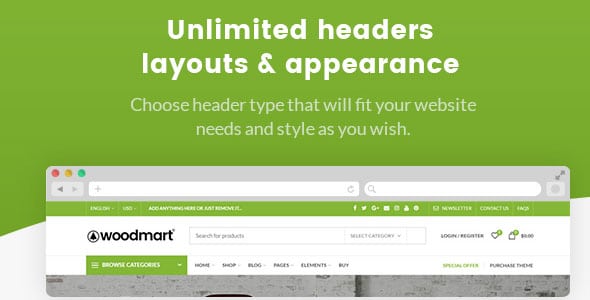 The theme comes with visual Drag & Drop header builder that makes the process of creating site's header layout simple. WoodMart offers a large selection of headers and layouts. So, it will not take you too long to build a header view that will meet your online store's design style in the best possible way.
AJAX Full Screen Search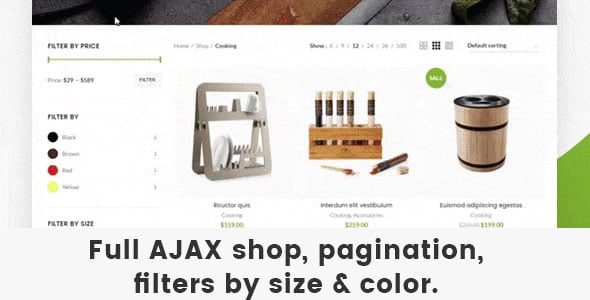 It's hard to imagine an online store without a search, isn't it? Your job is to make it easy for site's visitors to find the necessary products and do shopping on your website. Keep in mind that WoodMart theme comes with a built-in search function. Once you activate this function, a search string will appear on site and people will be able to find products on your store within seconds.
Sidebar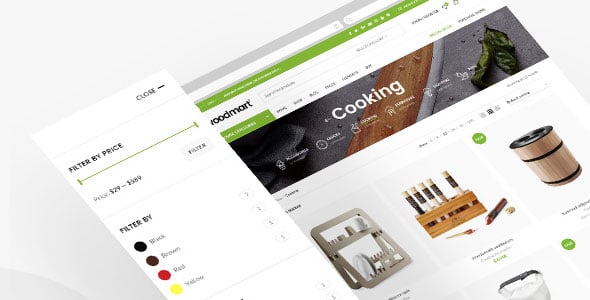 Would you like to implement a sidebar into a shopping page of your online store? With WoodMart WordPress theme, you will be able to get this done fast and easy. The theme comes with a canvas hidden sidebar. So, you can implement a sidebar into an online store's shop page anytime when such a need arises. In addition to a sidebar, you can add filters as well as widgets to your online store's shop page. By doing so, you'll be able to make the shopping process on your online store simple and provide users with better experience.
Filters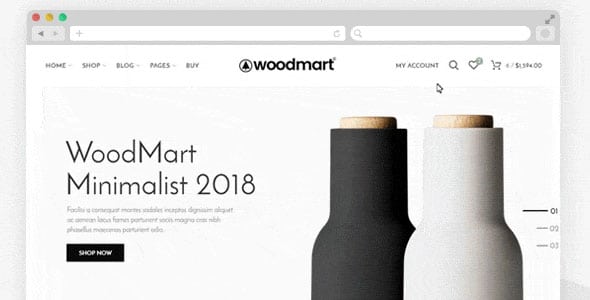 Do you offer products of different brand, colors, sizes and sizes? If so, you'll need to implement filters into your online store. It's pretty easy to do this if you choose to build your online store with WoodMart. Filters will allow shoppers to sort the products by various parameters on your online store fast and easy. With such a feature, it wouldn't be difficult for online buyers to find the right products on your site and make a purchase.
Built-in mega menu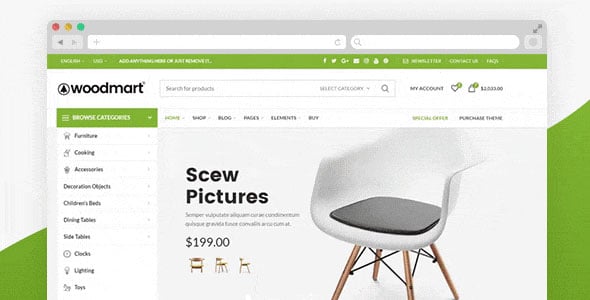 Without a doubt, menu is a good addition to an online store. Menu makes it possible for users to browse categories of products on a website. WoodMart is a WordPress theme with a built-in mega menu. If you make use of this amazing feature, you'll be able to implement a menu into your online store and customize its content for your needs easily.
Multiple product page layouts
WoodMart WordPress theme provides online store owners with a vast variety of product page layouts and design styles. You can also pick lots of images and elements for product pages. So, you'll have plenty of room for customization of product pages on your online store. Don't be afraid to make experiments and try different product page variations. Sooner or later, you will be able to create product pages that work best for your online store.
Social registration and login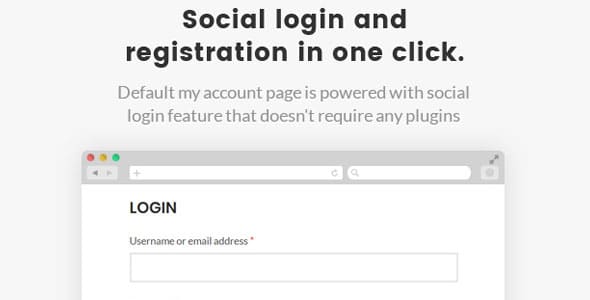 Would you like to allow users to register and login via their social media accounts? You can do this quickly if your WordPress online store is built with WoodMart theme. Actually, you don't need to install any additional plugins on your site. WoodMart theme has a feature that you can use to integrate your WordPress site with social media in one click.
Final Thoughts
WoodMart would be a good choice if you are looking for a WordPress theme for building a WooCommerce online store. WoodMart is a fully responsive, SEO friendly and highly customizable WordPress theme.
But most importantly, the theme has all the necessary features that your online shop needs. With WoodMart theme, you will be able to create a good-looking and fully-functioning online store and start selling your products and services successfully. The theme delivers multiple significant benefits to online store owners and has almost no drawbacks.