Are you looking to start an e-commerce store?
Are you looking for a theme for the same?
If yes, our review today will undoubtedly help you out. We will share our Shopkeeper Theme review with you to help you understand whether this theme is up to the mark. Once you go through the features of this theme and the pros and cons, making the buying decision will be easier than ever. Rather than going through trial and error to pick the best WordPress e-commerce theme, you need to go through our review to get a holistic view.
Shopkeeper Theme Features:
Let us first look at the features of this theme before we go any further.
1. Beginner-friendly: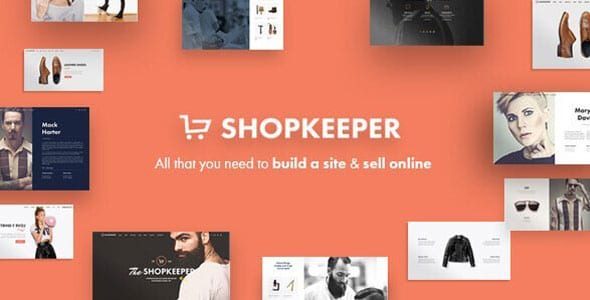 Tired of complex themes that take hours to setup?
If yes, this is the perfect option for you. It is a beginner-friendly theme that is equally easy to set up as well.
The detailed guide ensures that you can set it up in no time. Not only that, but you also get access to 6 months of support. It does not require coding knowledge. When you combine these features, it is easy to understand why it is a beginner-friendly theme.
Whether you have prior experience in setting up a WordPress e-commerce store or whether you're using it for your first e-commerce store, this theme certainly meets the requirements of everyone. It is one of the best beginner-friendly e-commerce themes which you can go with.
2. Unlimited header styles: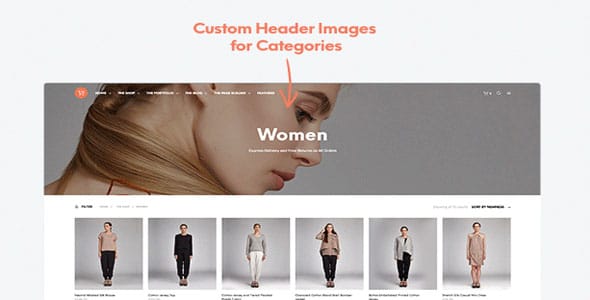 What is the first thing which visitors view on your e-commerce store?
The answer is the header. It forms the top part of your website. That is why; you cannot afford a copied header style. The theme goes the extra mile by providing you with virtually unlimited header style options. It means that customizing the header style according to your requirement is easier than ever.
The unlimited options mean that you can achieve perfection when it comes to header style. Since it is such an essential part of your e-commerce store, donning a unique look is easier than ever with this WordPress theme.
3. Customizable e-commerce store layouts: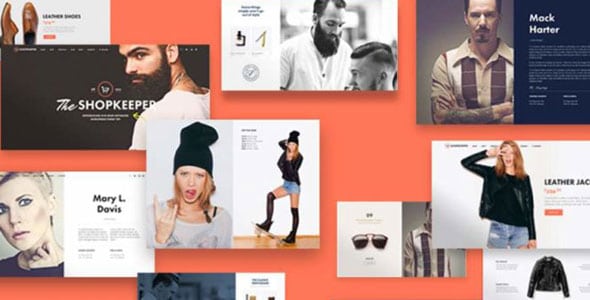 The header styles are numerous, but you can also choose between the different e-commerce store layouts. As a result, customizing the store according to the product which you are selling or aesthetic preference is undoubtedly possible. It also means that your store will not look similar to other e-commerce stores. If you want to stand out in the crowded e-commerce space, this theme provides you with plenty of options to do so.
4. Blogging layouts available: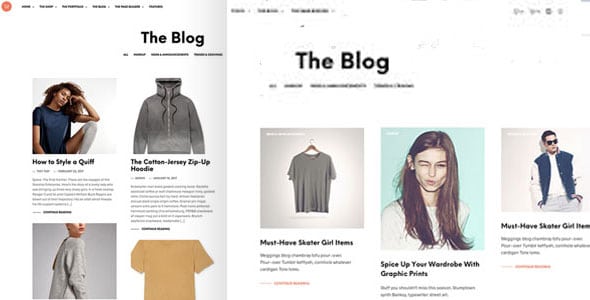 Do you plan to use this theme for blogging as well?
If yes, you would be happy to know that it comes with three blog layouts. As a result, you can certainly organize your content in a much better way. At the same time, the layouts are such that they increase the click-through ratio to your blog post. It means that the time that visitors spend on your website will be much higher. This, in turn, decreases the bounce rate, which can help you with rankings as well.
In a nutshell, it takes care of various parameters that can help you grow your website and retain the visitors. The versatility of establishing the e-commerce store or a blog makes it one of the best WordPress e-commerce themes available.
5. Responsive Design: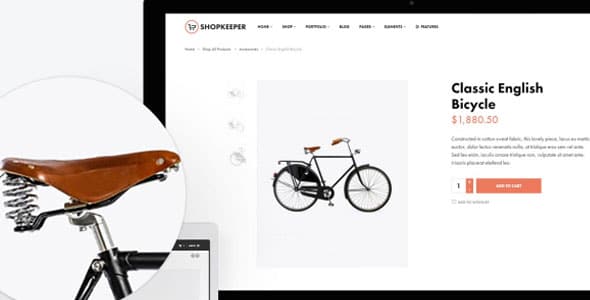 Many webmasters might not know that majority of the traffic these days comes from smartphones and tablets. The layout of your website needs to be different for smartphones as well as tablets. However, this theme does not require you to do any extra work to make the layout responsive (suitable for mobiles, tablets, and other devices).
The entire theme is responsive. As a result, irrespective of the device which your visitors use, the layout will always be customized according to the device. Due to this very reason, you can retain the visitors visiting your website from any device. It can help you in numerous ways like:
Decreasing the bounce rate
Increasing the conversion rate
Encouraging return visitors
Clean layouts
Better search engine rankings (mobile 1st indexing)
These benefits ensure that you can grow your websites at a faster pace. You get all these features without having to change anything on your website or in the theme. The responsiveness is inbuilt, which means that you will not have to take any extra effort to activate it on your website as well.
6. Portfolio display functionality: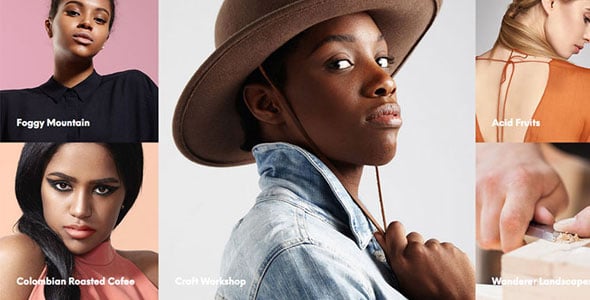 Do you prefer to showcase your portfolio of products on your e-commerce website?
If yes, this theme provides you with that functionality as well. The portfolio feature ensures that you can highlight your products or images of your actual portfolio. It ensures that if you want to put emphasis or throw some light on a certain collection of products, doing so is certainly possible. There is an inbuilt feature of the same, which means that you will not have to worry about coding or programming that feature into the theme.
These are the salient features of this theme with certainly help it stand out.
But wait, there's more!
Other Notable Features:
The other notable features of this theme which help it stand out even more include:
Includes Drag & Drop website builder
Fast Loading theme
Lifetime updates
Now that you are aware of its features let us look at the pricing.
Pricing:
After going through these features, you might think it would cost hundreds of dollars.
You are wrong
The cost of the theme is just $ 59.
That includes support for six months. If you want to add extended support for 12 months, you can pay $ 17.63 additional.
Even at that price, it is a great deal considering that it comes with lifetime updates. When you consider numerous features, you will realize that it is one of the most affordable WordPress WooCommerce themes that you can go with.
Who is Shopkeeper Theme suitable for?
The answer is that it is suitable for anyone who wants to start a WordPress e-commerce store. It does not matter whether it is your first e-commerce store or your tenth e-commerce store; it is suitable for all. The numerous layout options, along with the dual functionality of an e-commerce store or a blog, certainly helps it stand out.
Let us now look at the detailed pros and cons of this theme to provide you with a holistic view.
Shopkeeper Pros:
Numerous customization options
Affordable
Portfolio feature on offer
Responsive design
Includes six months of support
Lifetime updates
Beginner-friendly
Shopkeeper Cons:
A bit overwhelming at the start
Verdict:
Shopkeeper Theme does not provide you with any reason to complain. It is the primary reason why it has become so popular. If you're looking to set up an e-commerce store using the WordPress content management system, this WooCommerce theme should top your list. It outscores other e-commerce themes by miles.